The McKinney National Airport is currently updating their Airport Master Plan and Airport Layout Plan regarding future development of the airport over the next 20 years.

The Airport will hold their next Public Information Workshop Open House regarding the Master Plan on Monday, December 11 from 5:30 to 7 p.m. in the Dulaney Room of the Roy and Helen Hall Memorial Library, located at 101 East Hunt Street in McKinney.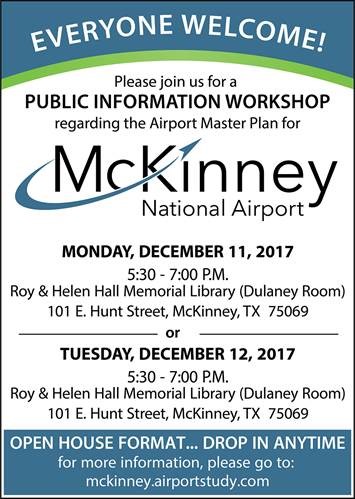 View Councilmember Hendricks' presentations regarding the McKinney Airport Advisory Committee made at the February 7, April 4 and the August 1 council meetings. View the McKinney National Airport's presentation, the Chapters of the Master Plan guide or mckinney.airportstudy.com for even more information.