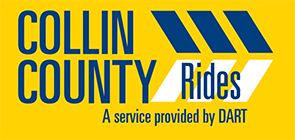 Collin County Rides is a transportation program available to registered residents of Fairview who are senior citizens age 65+ and/or persons with disabilities. This transportation program is offered to eligible Fairview residents through an agreement between the Town of Fairview and Dallas Area Rapid Transit (DART). Residents interested in applying for the service may go online and access DART's website to register and upload documents to prove eligibility, print an application and mail in documentation, or call DART's Certification office at 214-828-6717 and DART will work with you to see if you qualify. For more information about Collin County Rides, please access: https://dart.org/ccr/
Collin County Rides Demand Responsive Transportation Assistance Fact Sheet
Service Area: The municipalities of Wylie, Allen, and the Town of Fairview comprise the service area. Registered residents may travel anywhere within these three cities and/or Collin County as long as either the origin or destination of the trip is within one of the three cities.
Connecting to DART: Travel may include connecting to the DART service area in Plano, inside Collin County. Connections to the DART Downtown Rowlett train station are also permitted, even though that station is outside of Collin County.
Service Hours: Passengers may schedule pickups and drop offs between 5:00 a.m. and 8:00 p.m. Service is provided Monday through Sunday, 7 days a week.
Scheduling Trips: Collin County Rides demand responsive service phone reservations are available Monday through Friday 8:00 a.m - 5:00 p.m. Reservation line: 469-470-2325
Call Center Information: Cancellations and "Where's my Ride" calls will be answered between 8:00 a.m and 5:00 p.m. "Where's my Ride" allows riders to check the status of their vehicle on the day of the scheduled trip. After hours "Where's my Ride," call 214-426-6262.
Program Code: When calling to schedule a ride, please give the Program Code: CCR2016 to the call taker to confirm that you are part of the Collin County Rides Program. They will be able to give you an estimated cost for your trip upon request.
Vehicles: A variety of vehicles will operate Collin County Rides. Not all vehicles are accessible, accessible service must be requested at the time of scheduling
Eligibility: Collin County Rides will serve registered residents of Fairview who are senior citizens age 65+ and/or persons with disabilities. Residents interested in applying for the service may go online to register and upload documents to prove eligibility, print an application and mail in documentation, or call DART's Certification office at 214-828-6717 and DART will work with you to see if you qualify.
Click here to print an application
Printed applications and documentation should be mailed to:
DART Collin County Rides Program
P.O. Box 660163
Dallas, TX 75266-7271
Once you are enrolled, DART will provide you with a reloadable program debit card.
Subscription Trips: Riders who have regularly scheduled appointments may be eligible for subscription service. This service eliminates the need to call and schedule each individual trip in advance. A scheduling representative will be able to determine eligibility and assist in setting up a subscription.
Advanced Scheduling: All trips may be scheduled up to two service days in advance by registered customers. Return trips must be scheduled in advance based upon expected completion time. Monday and weekend trips are to be scheduled no later than the Friday before.
Same Day Scheduling: Same day scheduling of trips is not permitted.
Ready Time Window: DART will operate Collin County Rides service on a 0-to-20 minute window for scheduled pick-ups. The vehicle is considered to be on time when it arrives within the assigned 20 minute ready-time window. Passengers are encouraged to be ready ten minutes prior to the scheduled arrival time and are expected to board within the first 5 minutes of the vehicle arriving.
Assistance: You must be able to get yourself and any equipment you require into and out of the vehicle.
No-Show: A rider is given a no-show when the vehicle arrives within the 20 minute ready-time window and the rider fails to board the vehicle within 5 minutes of the vehicle's arrival. Riders may be penalized for excessive no-shows.
Trip Denials: Trip requests may be denied due to capacity constraints or eligibility.
Fare: Fares are to be paid using the debit card. Debit cards may not be used for tipping. If the total fare is more than what is available on the debit card, it is the riders' responsibility to pay the difference. $2.25 is the boarding fare plus $1.80 per mile. There is also a traffic delay time/waiting time charge of $.45 per every 1.5 minutes. Riders may be responsible for any toll charges the trip may require. Drivers will accept cash or credit card.
Guests and Personal Care Attendants (PCA): Registrants debit card may not be used for accompanying guests or PCA's fare. There is an additional $2.00 charge for each guest and/or PCA. The driver will accept that fare from the guest or PCA in cash or by credit card.
Program Debit Card: Value may be purchased in $5 increments up to $100 per calendar month. Up to $400 of travel debit value per calendar month, can be purchased at a cost of $100 to the rider. The rider is required to provide 25% of the card balance. The table below demonstrates how rider payments translate into the actual value on the card.
| | | |
| --- | --- | --- |
| Rider Payment | Funds Received | Debit Card Value |
| $5 | $15 | $20 |
| $10 | $30 | $40 |
| $15 | $45 | $60 |
| $20 | $60 | $80 |
| $25 | $75 | $100 |
| $30 | $90 | $120 |
| $35 | $105 | $140 |
| $40 | $120 | $160 |
| $45 | $135 | $180 |
| $50 | $150 | $200 |
| $55 | $165 | $220 |
| $60 | $180 | $240 |
| $65 | $195 | $260 |
| $70 | $210 | $280 |
| $75 | $225 | $300 |
| $80 | $240 | $320 |
| $85 | $255 | $340 |
| $90 | $270 | $360 |
| $95 | $285 | $380 |
| $100 | $300 | $400 |
For more information about the Dart Rides debit card please go to https://dart.org/ccr/.
Personal Fund Feature: There is also a Personal Fund Feature on your debit card. This allows you to load personal monies onto your debit card that does not include a funding match. This may be a need if you are exceeding the maximum balance in a month for rides. To take advantage of the Personal Fund Feature, simply select "Personal" instead of "Subsidized" when adding funds from the website. Only $200 may be added of personal funds monies that does not include a funding match, and this amount will be utilized towards DART rides after utilizing all subsidized funds. Any remaining personal funds amount on the card will roll over to the next month for use and may not exceed $200 at any time.
Lost or Stolen Cards: Report lost, stolen or damaged debit cards to DART at 214-749-3400. There is no fee for the first lost card, but a $5 fee will be assessed for any additional replacement cards.