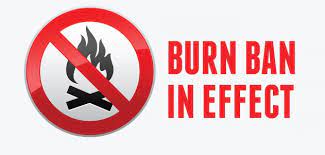 Effective August 17, 2023, the Town of Fairview has implemented a burn ban. The Collin County Fire Marshal also issued the same burn ban earlier this week for all unincorporated areas of Collin County. This burn ban will remain in place for 90 days for all properties within the Town of Fairview.

During this burn ban, only the private home type barbecue grills will be permitted to be used. This ban includes burning of brush and natural vegetation on any land parcel and in any outdoor fire pit or container regardless of size. A propane grill/fire pit is still allowed, as it does not release embers that may spread and cause fires.

For more information, please review Chapter 5 (Fire Prevention and Protection) of the Town's Code of Ordinances on the Town of Fairview website at www.fairviewtexas.org, specifically: Fire Bans Section 5.01.001; Definitions: Open Burn, Section 5.05.001; and Exemptions, Section 5.05.003. If you have any questions, please contact Fire Marshal Green at (972) 886-4232.